I've got a case of wanderlust, which simply means "a strong, innate desire to rove or travel about". The term comes from mid-1800s German. I may have a particularly bad case because I really want to hit the road in a RV with a pantry full of pretzels and a fridge full of bratwurst and beer. Hey, let's go everywhere…
https://www.youtube.com/watch?v=9kGHmIZ4IUY
Camping Trip Vs. Road Trip
I look at our trips in two categories: Road Trip and Camping Trips.  In my mind, it is about the journey vs. the destination.  We have had some great RV trips this season, but they would fall in the "Camping" category. We traveled less than 2 hours. We hunkered down in the campground till we left a couple days later. Great time, fits well in a weekend.
Road trips take more time –at least they do for us and our 4 kids.  These are farther and when you "stop and smell the roses" – you take in the sights along the way.  And if you have a lot of time, you can recreate the Reese's Peanut Butter Cup of trips both Road and Camping – two great trips that go great together. (PS. Camping at Hershey next – can you tell I'm ready?)
Road Trip Inspiration
So, if you are ready to hit the road.  I found this fun link with lots of inspiration: 75 Road Trip Attractions. There are some great picks from our neck of the woods in Pennsylvania, like Frank Lloyd Wright's House on Kentucky Knob to where Route 66 ends at the Santa Monica Pier in California. And in between, some fun stops I will add to my route like the Fast Fiberglass Mold Graveyard in Sparta, Wisconsin and the Route 66 Arcade Museum in Atlanta, Illinois.
Beauty Is In The Eye Of The Beholder
So, I also can across this link: The Worst Tourist Traps In Every State. And to some, this may read as "Stay Away!" I can't resist. Others must feel the same way because South of the Border in Hamer, South Carolina makes both lists. And while it may not be a destination, the World's Largest Ball of Twine in Cawker City, Kansas is definitely worth a stop.
Until the Rubber Meets The Road…
As always, I leave you with some distractions until your heart can wander. If you cannot quell your wanderlust right away, a good Road Trip Flick may do the trick. My "go-to" is National Lampoon's Vacation. I really don't think we need much explanation here — a definite Road Trip Classic.
But, another Flick worth the Road Trip is Pee Wee's Big Adventure. This ride will get you a glimpse of the Cabazon Dinosuars in Palm Springs, California and the Alamo — deep in the heart of Texas!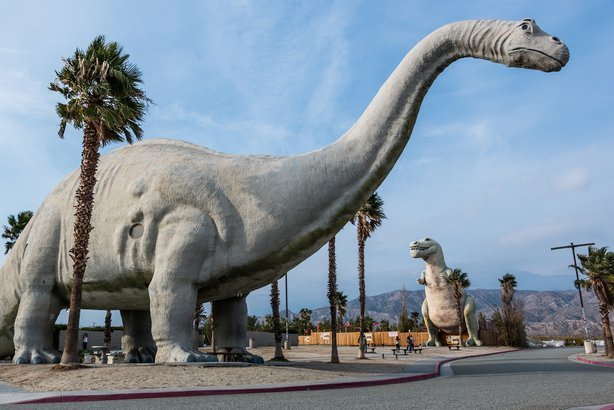 CABAZON DINOSAURS © Atomazul/shutterstock
Until then, Happy Trails. If you have any Flicks, Trips or Tips to share park them below…